Bearings are for spinning reels has shield or seal to prevent from saltwater leak or dirt. Some of bearing shields are manufactured as unremovable but you may still remove them by special actions. I'll post another article for how to take off shields for unremovable shielded bearings. There are also orange, blue or black seal bearings on the market.
This article is for steel shields with its spring retainer c-clip model only. This steel shielded bearings are used for all spinning reels on the market mostly. Here is the step by step for removable models.
Remove the shield retainer or c-clip
C-clip is used as spring retainer to lock shield into bearing that placed between outer race and shield. Any sharp thing may be used to remove them. Fishing hooks are useful tool for this. I'll use special tool which is very sharp.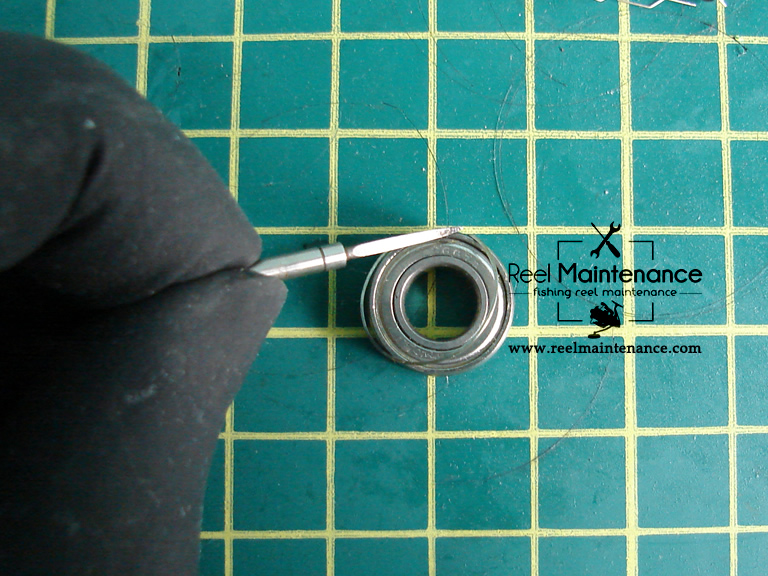 Remove the bearing shield
After the removing c-clip or spring retainer, you can take off the bearing shield. You may use pick tool or any sharp tool to do this. Just place the sharpest point of the tool to between shield and inner ring, after that lift the shield gently from bearing.
Bearing is ready for maintenance
You may clean, degrease and re-grease or re-lube the all parts of the bearing. Look at the Grease reviews section for most popular grease available on the market for spinning reels. Check If the bearing has any noise or friction with difficulty in turning freely. Bearing check tool is useful tool for this. Also, if you seen any oxidation on the ball surfaces, inner race or ball cage, you may consider replace the bearing with new one.